Responsive Photoshop Brushes for Digital Artists
GrutBrushes realistic responsive Photoshop brush toolsets for digital artists mimic the behavior, look and feel of working with natural artist's media such as oil paint, pastel, chalk, pencil, charcoal and include the most realistic, pressure responsive watercolours possible in Photoshop.
These Photoshop brush toolsets respond to the pressure, speed and direction of your brush strokes resulting in digital artwork with all the character and personality found in real world art supplies with added properties found only in digital media. No two brush strokes will ever be the same.
Includes any new brushes published in the next 30 days!

Photoshop Brush Set Collections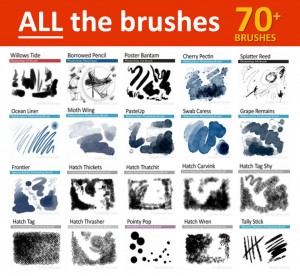 GrutBrushes Digital Artists' Photoshop Brushes
Download every Photoshop brush in the store for only $10. Includes any new brush published in the next 30 days!
Buy $10
Details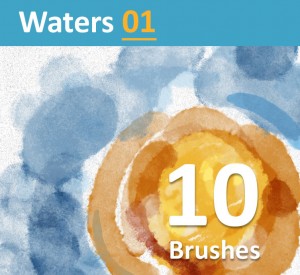 10 Realistic watercolour brush tools
These realistic dynamic watercolour brushes respond to stylus pressure to produce unique organic watercolour brush strokes that vary according to your hand motion with the same rich textures (and challenges) present in real watercolour brushes.
Buy $4
Details
Cross-Hatching Photoshop Brushes
7 Dynamic pressure responsive cross-hatching brushes for Photoshop illustrators.
Buy $3
Details
Free

Photoshop Oil Brush for Members - 'Gallic Whey'

 

oil brush

 with a fairly wide opacity range and a medium amount of range in width from minimum to maximum stylus pressure. At low pressure, this brush has a more dilute fill than some of the other more pasty opaque oil brushes which makes it a more subtle tone brush but still with the signature oily blotchiness and at the highest pressure it has a sharp crisp edge.

A soft

Next Free Brush will be here in
Previously free brushes: (Browse them all in the brush store)
Amazing!
I just got all of your brushes, and they're amazing! They work in such a realistic way! I'd been looking for Photoshop watercolor brushes like them for a while, but was starting to think I'd have to buy Corel Painter to get the type of realism that I wanted. Now I can keep using Photoshop! Thanks!
-Savanna