Photoshop Brushes for Digital Artists

Photoshop Brushes from GrutBrushes are realistic, responsive Photoshop brush toolsets for digital artists that mimic the behavior, look and feel of working with natural artist's media such as oil paint, pastel, chalk, pencil, charcoal and include the most realistic, pressure responsive watercolour brushes possible.
These Photoshop brushes respond to the pressure, speed and direction of your brush strokes resulting in digital artwork with all the character and personality found in real world artist's media with added properties found only in digital media. No two brush strokes will ever be the same.
Also includes: Free 60 Day Art-Brush membership • Any new brushes published in the next 30 days • The GrutBrushes Digital Artist's Toolset plugin for Photoshop CC ('14/15) • See everything you get here
Photoshop Brush Sets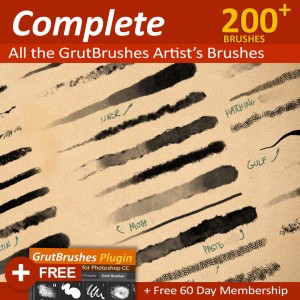 GrutBrushes Art Brushes Complete
Download every single Photoshop Artist's brush in the shop for only $20. (FX Brushes not included) Includes 2 month free Membership (all new Artists's brushes for 60 days) plus the GrutBrushes Digital Artist's toolset plugin for Photoshop CC.
Buy $20
Details
50 Dynamic Photoshop Cloud Brushes
Dynamic pressure responsive cloud brushes for Photoshop. Beautiful realistic set of 50 Photoshop brushes and tools (not stencil stamps!) for painting all sorts of photo realistic clouds. Watch them in action!
Buy $12
Details
10 Impasto Oil Photoshop Brushes
These 10 realistic Impasto Oil Photoshop brushes mimic the appearance and experience of using thick and viscous oil paint in Photoshop as accurately as possible in Photoshop using brush tool presets and built in impasto texture requiring no layer effects or post processing whatsoever.
Buy $8
Details
Photoshop Mixer Brush - 'Paper Waif'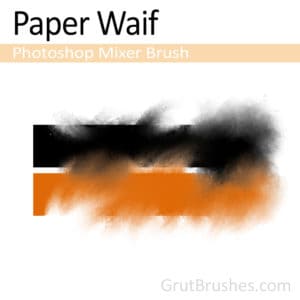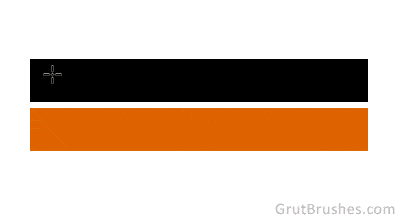 A soft Photoshop mixer brush for blending and mixing your digital paintings.
A new brush will be available here on Monday December 12th!
Amazing!
I just got all of your brushes, and they're amazing! They work in such a realistic way! I'd been looking for Photoshop watercolor brushes like them for a while, but was starting to think I'd have to buy Corel Painter to get the type of realism that I wanted. Now I can keep using Photoshop! Thanks! -Savanna